AMD Radeon HD 7950 w/ Boost Versus NVIDIA GeForce GTX 760
Earlier this week NVIDIA released the GeForce GTX 760 2GB video card at the $249.99 price point. That is priced very close to the AMD Radeon HD 7950 3GB video card that can now be found for $264.99 shipped and it comes with four game titles. We take the two reference cards from both companies and see which one is the winner on our triple monitor test setup!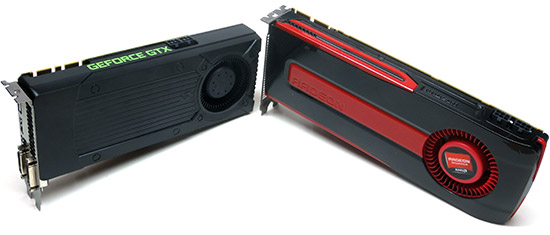 At the end of the day, the NVIDIA GeForce GTX 760 2GB and the AMD Radeon HD 7950 3GB video cards perform very closely together. For right around $250 either of these cards are more than capable of powering a single monitor gaming system without a problem. We were also impressed by what they could do on a 5760x1080 triple monitor setup thanks to NVIDIA Surround and AMD Eyefinity.
Article Title: AMD Radeon HD 7950 w/ Boost Versus NVIDIA GeForce GTX 760
Article URL: http://legitreviews.com/article/2227/1/