Algae: 'The ultimate in renewable energy'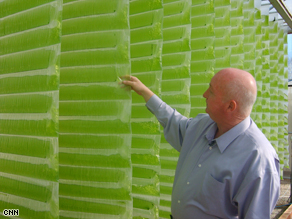 Texas may be best known for "Big Oil." But the oil that could some day make a dent in the country's use of fossil fuels is small. Microscopic, in fact: algae. Literally and figuratively, this is green fuel.
art.algae.jpg

Plant physiologist Glen Kertz believes algae can some day be competitive as a source for biofuel.

"Algae is the ultimate in renewable energy," Glen Kertz, president and CEO of Valcent Products, told CNN while conducting a tour of his algae greenhouse on the outskirts of El Paso.

Kertz, a plant physiologist and entrepreneur, holds about 20 patents. And he is psyched about the potential algae holds, both as an energy source and as a way to deal with global warming.
Pretty crazy idea!
http://www.cnn.com/2008/TECH/science/04 ... index.html