Over two years ago I bought the
Apex Digital AD-1100W DVD player
from Walmart and just recently it's been acting funky. Back in 2004 it was hard to find a DVD player that was region free and supported things like DIVX, was able to play burnt DVD's and has S-video out. The other downside on this player is the fact it sucks on HDTV's as it doesn't have progressive scan. When i used the Apex AD-1100W on an HDTV it was found to have have horizontal lines flickering across it as a result of not being progressive scan.
I did some research on the Internet and now in 2007 I found myself back at Walmart picking up one of their cheapy $40 DVD players...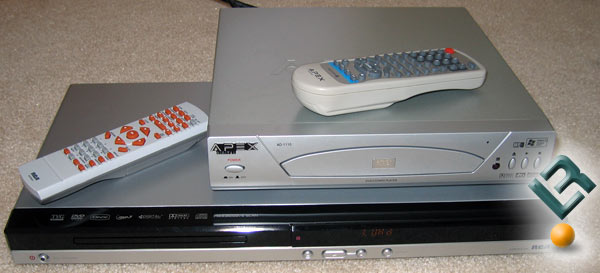 This time I picked up the $42 RCA DRC247N progressive scan DVD player... It's just a few more bucks than what I paid for my old Apex and has tons of more features. Both the Apex and RCA models are pictured above... This one has an LED display, progressive scan and component outputs for higher image quality over S-Video. It also can be turned off with a remote unlike my old Apex AD-1100W could. The downside of this player is that it isn't region free. Since I have picked up DVD's from overseas this sucks... Well there is a small hack to make the RCA DRC247N region free...
Turn the player on and open the disc tray. Press [CLEAR] followed by [1][3][6][9] and one of the keys [0]...[8] corresponding to the region you want to set the player for (press 0 for Region 0 or Region Free). Turn the player off then on again for the changes to take effect.

To verify the region code, press [SETUP] followed by [1][3][7][9]. A screen will then pop up with the firmware info and the current region code setting. If it says 0 it worked and you are done!
If you did it right when you check the region code you should see this: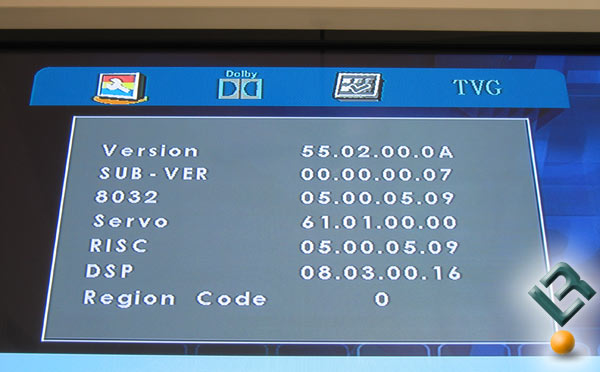 After this five second hack my $42 DVD player was now region free and a big step up from my old Apex model in terms of features. The flickering is gone thanks to progressive scan and it's no longer a Region 1 only DVD player thanks to the five second region hack mentioned above. The only downside to the whole player is the remote. I've never seen such a crappy and ugly remote in all my life. Now if I just had a Logitech harmony remote.... hehe
Hope someone finds this helpful... My original APEX DVD player post has over 3,000 views on it, so maybe over time this one will too!