Legit Extremist

Posts: 1630
Joined: Sun Dec 17, 2006 11:55 pm
Location: Southern Ohio
Contact:
To bad it was cancelled

Heres a link:
http://video.google.com/videoplay?docid ... 2708025465

---
Legit Extremist

Posts: 2188
Joined: Fri Feb 02, 2007 2:08 pm
Location: Colorado, USA
in america they screw us over big time cause they cancel all the good yet "risque" commercials.

whaaaatever, i loved that commercial!
Cyberpower special rig
ASUS Prime 450M-A
Ryzen 5 3600 stock
CM Hyper 212 EVO push/pull
24GB DDR4 3000 (soon to be 32GB)
AMD RX 580 8GB
Samsung 970 EVO Plus 500GB NVMe SSD
Lexar 256GB SSD
6GB Seagate hdd
Stock PSU (will upgrade)
ASUS VE278 27" monitor, Samsung Vizio V435-G0 42" 4K TV
Logitech Z533 2.1 Speakers, G935 7.1 headset
MS LXM-00001 Ergonomic kbd
Razer Deathadder Elite, XBOX One wireless controller
I've come a long way from that original Core2Duo build y'all!

---
Hi All,

That was great!


__________________
First rule of ground school; This is the ground, don't hit it going fast.

You start flying with a full bag of luck and an empty bag for experience. The object is to fill the bag of experience before you empty the bag of luck.
---
Legit Extremist

Posts: 1341
Joined: Mon Oct 11, 2004 12:01 am
Location: California
Contact:
haha, that was great.
comp specs- too lazy to make a cool looking sig... MB:GIGABYTE GA-MA790XT-UD4P, AMD Phenom II X3 720 Black Edition 2.8Ghz, CORSAIR TW3X4G1333C9DHX 4GB PC3-10666, ASUS Radeon HD 4870 512MB, SB audigy gamer, WESTERN DIGITAL Caviar Black 500GB, antec P180 case (extra 120mm fan and 80mm fan), Corsair HX Series 620W: ASSEMBLED June 2009
---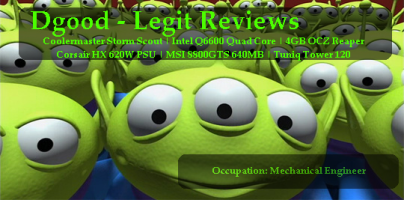 ---
Legit Extremist

Posts: 1589
Joined: Sun Jan 07, 2007 5:24 pm
Location: St. Charles, Mo.
I have to agree with dgood, the 7" Durango commercial is good but the MC commercial blows it away!

ASUS Crosshair V- Formula Z - AMD 9590H2O
16G GSkill RipJaw - CoolerMaster Seidon AIO Cooler
Corsair CX750F RGB PSU - Samsung 840 EVO 500GB SSD
ASUS BW-12B1ST BD Burners(X2)
EVGA 560ti SC
ACER 24" LED LCD monitor
ANTEC 900 case in Chartreuse NEON paint

---
have to go with mastercard
-Austin
Screamin' BCLK:
775 System (Overclocking Platform): Q8400/Q8300/E8400/E7400/E7500 - GA-EP45-UD3R v1.1 - 4GB (2x2) OCZ Reaper HPC DDR2 1066 CL5 2.1v Corsair TX-750w
Gamer: Asrock Z77 Extreme4, i7 3770K @4.6GHz, ThermalTake Armor A90 modded, 2x4GB GSKILL RipjawsX DDR3 2133 CL9, Corsair HX-750w, MSI GTX660 Twin Frozr
Server2012: Q9300 - 8GB DDR2 - Asus P5QL Pro - Corsair CX430 - Mirrored 2TB Seagate's with 2TB WD cav for fileshare backups, 1TB WD for OS backups
---
---