Dell announced today that Morphlabs and Vibrant Media are using Dell PowerEdge C5220 microservers running the new Intel Xeon E3-1200 v2 22nm CPU. The new machines are reported by Dell's customers to increase the number of users handled by each server by 50% and consolidated their server footprint (number of servers used) by 4 to 1.
These new microservers will be available for everyone else on May 22 with pricing starting at $12,207.84
http://www.dell.com/us/business/p/poweredge-c5220/pd
. You can fit up to 12 microservers into on 3U package.
The latest Dell PowerEdge C5220 is the world's first microserver with Intel® Xeon® processor E3-1200 v2 product family based on latest 22nm manufacturing technology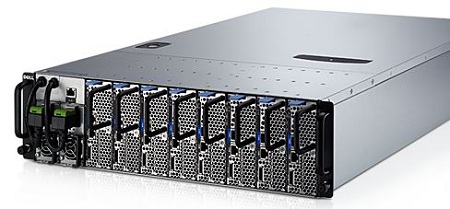 Dell and Intel drive microserver ecosystem to help customers efficiently run web, cloud, content delivery networks, and traditional application environments

Dell announces new microserver customers including Vibrant Media and Morphlabs

The latest Dell PowerEdge C5220 is the world's first microserver with Intel® Xeon® processor E3-1200 v2 product family based on latest 22nm manufacturing technology

Dell today announced that customers such as Morphlabs and Vibrant Media are using Dell microserver technologies based on Intel Xeon processors to power business-critical web 2.0, cloud, and content delivery networks (CDN), as well as high-performance computing (HPC) applications. Driven by the emergence of a growing hardware and application ecosystem, x86-based microservers are rapidly evolving from a niche solution to one with widespread awareness and value.

"We're constantly inspired by the unique ways our customers are leveraging Dell microserver platforms to drive specialized web 2.0, HPC and cloud computing applications," said Forrest Norrod, vice president and general manager, Dell Server Solutions. "As the microserver market and ecosystem have matured, customers like Vibrant Media have validated that microservers are a cost-effective, scalable platform in web 2.0 environments."

Current Dell PowerEdge C5220 microserver customer results include:

Morphlabs leverages the PowerEdge C5220 for its mCloud Rack Enterprise Edition to provide optimized levels of fault tolerance in extremely elastic configurations. This is a critical component for Morphlabs to deliver its private cloud, allowing service provider partners to offer dynamic infrastructure services characterized by atomic, highly elastic computes for predictable and fast quality of service.

An online media group deployed PowerEdge C5220 servers to help reduce cost and drive growth. Today, each server supports up to 50 percent more users than the group's previous servers and the company has consolidated its server footprint by a ratio of up to 4:1, while supporting a classic Web 2.0 software infrastructure consisting of Linux, Apache, MySQL™ and PHP software.

A leading company in data processing and imaging services for the oil and gas industry uses the PowerEdge C5220 to run its software for advanced seismic data processing and imaging.

Dell is updating its PowerEdge C5220 microservers with the latest Intel® Xeon® processor family based on Intel's latest 22nm-manufacturing technology. To help customers deploy cost-effective and scalable solutions for their IO intensive workloads in areas such as web 2.0, hosting and content delivery network (CDN), the PowerEdge C5220 microservers feature:

New Intel Xeon processor E3-1200 v2 product family including 17 Watt and 45 Watt TDPs designed to deliver up to 1.95x more performance within the same rack, compared to the previous generation of microservers based on Intel Xeon processors.

Up to 50 percent increased density versus the previous generation of microservers.

Fast data access with DDR3-1600 memory speeds to help improve performance for data bandwidth sensitive applications.

Key server features like ECC memory, 64-bit processing, Intel® VT-x, and full software compatibility.

Shared power and cooling resources that can use a fraction of the energy of traditional server offerings.

"We've been innovating with Dell on breakthrough microserver solutions based on Intel Xeon processors since establishing the category at Intel Developer Forum in 2009. Today we are excited to see new customers using Dell systems and taking advantage of the most power efficient Xeon processors ever delivered across a broader variety of workloads," said Jason Waxman, General Manager of Cloud Computing, Intel. "The latest Dell microservers with 22nm Intel Xeon processors will enable customers to further reduce costs while processing workloads which benefit from high density configurations."

Customer Quotes:

"We are reaching more than 250 million unique users per month with our contextual in-text, in-image, display and video advertising solutions," said Ben Anderson, vice president, global operations & IT at Vibrant Media. "Dell's PowerEdge C5220 platform has provided us with a cost-effective, scalable platform to support our 6,500 publishers."

"Morphlabs works closely with Dell to power our all-SSD mCloud Rack," said Winston Damarillo, founder and CEO of Morphlabs. "Upgrading to Dell's newest microserver enables us to deliver a unique capability to provide hardware-level isolation for private clouds that can then be clustered together to form a highly-resilient platform necessary for mission critical workloads."

Availability:

The PowerEdge C5220 featuring the latest Intel Xeon E3-1200v2 processor series will be available May 22, 2012. Pricing starts at $12,207.84.

About Dell

Dell Inc. (NASDAQ: DELL) listens to customers and delivers innovative technology and services that give them the power to do more. For more information, visit

http://www.dell.com

.

Dell and PowerEdge are trademarks of Dell Inc. Dell disclaims any proprietary interest in the marks and names of others.