Hey there guys,
A little problem just surfaced here on my computer, it came up the first time yesterday while playing GTA IV. I suddenly ended up on the desktop with a message showing, that my pc is going to be restarted because some Xbox Controller service terminated. I didn't think much of it and just let it restart and kept on going, but this time I got a different error message ( after gaming for about 10 min)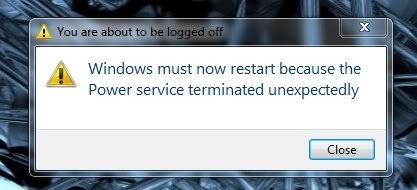 and my computer restarts itself again. I've been trying to figure out what the problem is, but haven't had any success yet. Today I got the same error message in CoD WaW after gaming for about 15 min, but yesterday after the errors with GTA I could play CoD for more than 3 hours without problems.
I've got Win7 Professional 64bit running.
Hardware specs in sig.
Does anybody have an idea on how to get rid of this?