Lot of you know I started out on AMD when I joined the forums. I've moved on to an Intel Quad Q6600 currently setting on an Asus P5KC. This thread will start out a little chaotic by throwing up all the stuff I've pushed into or around it in the last month. Then I'll get around to posting pics of the ongoing search for the perfect Rig which I'm now convinced is an Illusion much like a Desert Mirage.
Here's some of the more interesting stuff I've fed QuadZilla:
Mushkin DDR2 800
It started when I had this existing ram and got the craving for an Asus M3A Mobo, it's great ram but the M3A and it were having fits occasionally because it's strictly 1.8v and the board would run it but mostly at Auto on ram settings so there wasn't much joy for OCing.
So I replaced it with Some OCZ Reaper DDR2 800 that ran at 4-4-4-15 1.9 - 2.2 v
Darn good ram I'm keeping it but it's been replaced by some Mushkin XP3-12800 DDR3 1600
This ram isn't available on the open market yet, the good folks over at Mushkin kicked it down to me for review. I won't go into that because they've worked hard to make this a nice forum and I don't want to detract from that. Suffice it to say it's "Swag" provided for services rendered. All of the stuff I acquired I'll refer to as Swag to avoid the whole issue.
At that point I realized the DDR2 and DDR3 don't go on the same board and I had an Asus P5K-E
Nice board, Over Clocked Easy, decent bundle, good layout but it's not a DDR3 Board. About par for me right above Vanilla, enough ports and features to keep me happy. So I went and got an ASUS P5KC again right above Vanilla but uses DDR2 and DDR3, which I almost got in the first place but I figured I'd never get my hands on a set of DDR3 until prices dropped so I went P5K-E. I'll build it and sell it in a week or so.
This space is for a picture of the P5KC but for now hows this (I needed to get the Mushkin Swag done and didn't get pics of the P5KC)
At that point Swag started rolling in faster than I could wade through it I still have swag up the wazoo but I'm catching up. I ended up landing a Fata1ity interchangeable weight system mouse.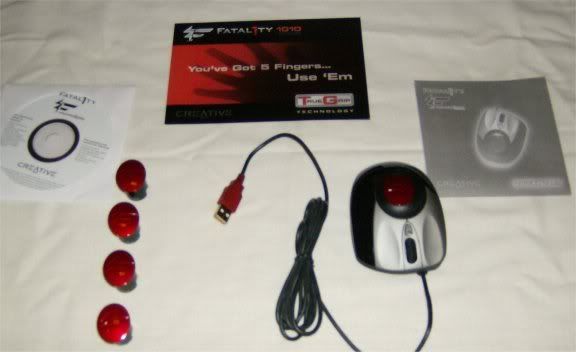 Great Mouse if you've got small hands or like the clinch method of mousing for gaming. It looked really crappy on the POS Wally World mouse pad so I landed a Destructor mouse pad from the folks over at Razer.
Excellent pad, 35% better tracking for Laser mice, 25% better for Opticals. Might be released by now at the time it was pending production numbers for initial release. Little hefty in the price department $40, has a nice carrying case for lan parties though, did increase precision. Big bugger though so make sure you got room for it.
Then low and behold along comes Crysis to my desktop. Great game and the mouse and pad were tearing it up. But hey wouldn't it be nice to have more buttons on the mouse for gaming?
Yup Razer kicked me a Lachisis gaming mouse, 9 button 4000 DPI, on board memory (32kb), 5 programmable profiles, DPI switching on the fly, thick teflon feet, and big enough for my huge paws.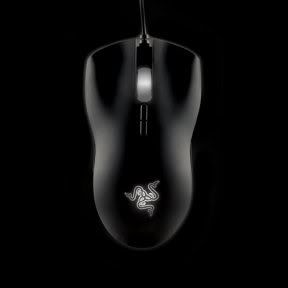 Here it is beside the Fata1ity on the Destructor
And here it is lit up
There I am tearing up Crysis when I hear what every gamer dreads, that's to loud turn it down. So I Swaged my way into a Piranha Gaming Communicator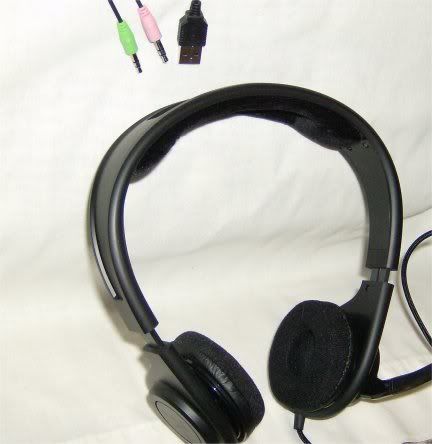 Nice headset with noise canceling microphone, it's on ear and not over ear so if your not comfortable on ear might look at a different set.
About that time Tagan stepped up and I Swagged a Tagan BZ1100 Watt Power supply to replace the BZ700 Modular I was using. Might be a little over kill but it's sweet looking and provides really clean power. There have been reports of a buzzing noise with 8800GTX GPUs with it, I tested it against like 8 8800 series cards and couldn't get a peep from it.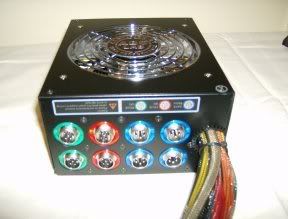 Sweet lookin PSU isn't it. Has a ton of cables in a sweet case.
Came with an interesting bundle too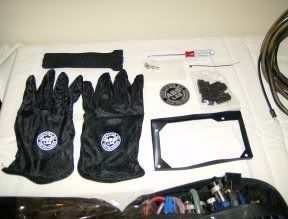 A set of Micheal Jackson gloves, a tiny screw driver, vibration dampening gasket (didn't need it), ABS labs case badge, velcro cable ties, and a little bag of screws. Heavy bugger probably 10 pound range. Local geeks been trying to pry the BZ700 out of my hands since I got it, not gonna happen, it looks good in the original box for a future build or backup PSU.
Then with this Swag rolling in and tons of testing a guy needs some backup capacity, so I landed a Tagan Jbod unit (and a IB 290 external, and a 290 docking, and a 390 docking darn things are like rabbits popping up all over the place.) I hear there might be some network storage heading this way. Pretty soon I'm going to have to put in a basement and make it into the ultimate Geek command post.
Here's the Jbod unit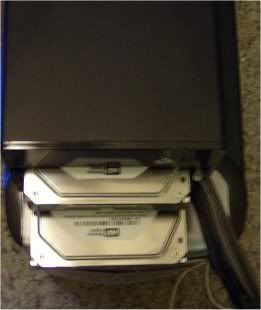 Nice unit but the included software is lacking for any thing but data backup, Ghost is working pretty good. Bio-Hazard just won one so you'll probably be seeing more of it.
Then I lucked into a GFXChilla which I ended up lapping because the base was unsightly. Here's the lap job.
And here's what the kit looked like
Then I had to get it hooked up with the stock fans for testing
So I stripped off the stock cooler from the XFX 8800 GT Alpha Dog and Ram sinked it up
Notice the top two sinks are off, on my model the heat pipes interfere with the top two sinks so you leave them off, it hasn't affected Over Clocking and there's plenty of air to cool them.
Yup those are surgical gloves, better than mauling it with finger prints, and their rubber so it helps with static discharge if your prone to that.
Then here it is mounted with stock fans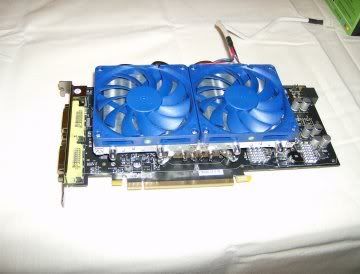 Got the same cooling from it as I did with the stock cooler running at 100%, but it did it whisper quiet. Max running ATITool to heat the card up for a half hour was 55C with good case air flow.
Then I had to try out the upgraded fans.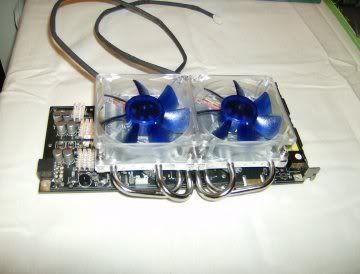 With the upgraded fans it kept the temps down to 50C, pretty decent for a value based GPU cooler. Might go back to the stock fans it takes up some room in there but I'm leaving it for now. If I need the expansion slots it covers I'll move back to the stock fans.
There's some other stuff, but I have to round up and upload some pics I'll get to later on. In the mean time I might be finding some bracing for the desk, I'm not sure it's designed to take this load.
Where's QuadZilla Today? Setting side open trying to work out the two black sata ports not recognizing drives. Might order a sata card for now gets a little old rebuilding all the time.
Any body know if PCIE sata cards are better than PCI? It's just for data drives and some docking units.