I'm planning on getting a Q6600 and overclocking it. Nothing extreme, just around 3.0GHz. What CPU cooler would you suggest for under $50 shipped? I'm currently looking at the Arctic Cooling Freezer 7 Pro and the Scythe SCMNJ-1000 Ninja Mini. Which is easier to install? I've got the vertical clearance (Antec P182) but how about horizontally? Would it block any slots on my mobo or something? Specs are in the sig.
File Server/Media Encoder/PVR PC
Antec P182 / Corsair 550VX / Gigabyte GA-P35-DS3R / Core 2 Duo E7200 @ 2.53 / Wintec AMPX 2x2GB DDR2 800 / Sapphire 100233L Radeon HD 3450 / WD Caviar SE16 750GB x3 / WD Caviar GP 750GB / Sony NEC Optiarc AD-7190A x2 / XP Pro SP2

unRAID Server
Antec 300 / Corsair 520HX / Abit AB9 Pro / Celeron 430 @ 1.80 / Kingston ValueRAM 2x1GB DDR2 667 / ATI Rage XL / Seagate 7200.11 1.5TB x9 / unRAID 4.3.3
---
Go with the freezer 7. For the money it's a solid performer.

Dan
(<- Clickable)
---
Site Admin

Posts: 33922
Joined: Sun Oct 05, 2003 8:45 pm
Location: St. Louis, Missouri
Contact:
---
Another option would be the OCZ Vendetta can be found for around
$30
. Seen reviews of it with the Q6600 oc'd to 3.6 keeping temps in the low 60's under load.
"The democracy will cease to exist when you take away from those who are willing to work and give to those who would not."
-Thomas Jefferson
---
I have the Kingwin Apop mentioned above and would buy another in a heartbeat. The Xigmatek is identical except the fan doesn't ship attached to the sink, this would be the one I would buy at the moment. It cools within a degree or two of my $60 (+plus $12 fan) Thermalright Ultra 120 Extreme...which is the top air cooler currently.
---
I'm with Dan and Apop's choices. the Freezer 7 is arguably the best for the money out there. I've used many of them on many different processor. Never dissapointed.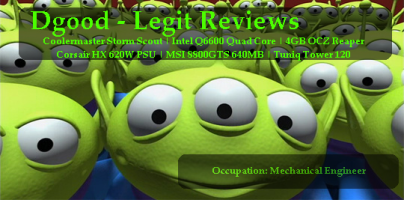 ---
Definitely Freezer 7 Pro. I just put one on a Q6600 build and its a very solid cooler so far. Only issue is that it blocks the first DIMM slot if you have ram with high heatsink like OCZ Reaper. Otherwise excellent value for the money.
---