Xigmatek Tauro 500 Watt PSU Review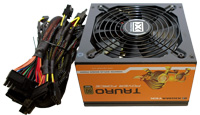 Today we tested an inexpensive PC power supply.
The Xigmatek Tauro 500W PSU is 80PLUS Bronze certified, but not modular build.
Therefore it is available for a lower price, so the concept can work out.
In this review of the Xigmatek Tauro XTK-TB-0500B we will check in practice if the energy efficiency is just as well as the price and we will see, if this non-modular power supply can convince us.
@
ocinside.de
Thursday Web Reviews:
HARDWARE
SilverStone Heligon SST-HE02 Passive CPU Cooler Review
SilverStone SUGO SST-SG09 MicroATX Chassis @ Benchmark Reviews
Corsair H100i Liquid CPU Cooler Review
Case Smithing: The Stealth Optical Bay Drive
Silverstone Heligon HE01 CPU Cooler Review @ Hi Tech Legion
Gigabyte F2A85X-UP4 AMD FM2 Motherboard @ Benchmark Reviews
Corsair Hydro Series H60 & H55 Review @ Hardware Canucks
Crucial M4 256GB SATA III SSD Review @ PCSTATS
MSI Z77A-G41 Motherboard @ Rbmods
Netgear WN1000RP 2.4GHz WiFi Booster Review
Lian Li PC-X2000FN Review @ Vortez
Far Cry 3 Video Card Performance Preview
Creative Sound Blaster Z Review @ Vortez
Sapphire Vapor-X Universal CPU Cooler Review @ OCC
In Win GRone Full Tower Chassis Review
Cooler Master TPC 800 CPU Cooler Review on Technic3D
GTX 680 vs. Radeon HD 7970 - Multi-Display Showdown @ [H]
Silverstone FP37 SDXC USB 3.0 Card Reader @ Benchmark Reviews
ioSafe Solo G3 Fireproof and Waterproof External Hard Drive Review
Silicon Power Diamond Series D03 USB 3.0 Portable HDD Review @ Madshrimps
Western Digital Black 4TB Hard Drive Review @ Hardware Canucks
ASUS Google Nexus 7 Tegra 3 Tablet Review @ Hi Tech Legion
BitFenix Hydra Pro Fan/LED Controller Review
The NEW Corsair H60 and H55 CPU Liquid Coolers Review @ [H]
Thecus N5550 5-Bay Home NAS Review
GELID Slim 12 Fan Series @ DreamWare Computers
Corsair Hydro Series H80i and H100i Liquid CPU Coolers Review @ Madshrimps
Accessories
Thermaltake Level 10 Mouse @ LanOC Reviews
Tt eSPORTS Theron RTS Laser Gaming Mouse Review
CM Storm QuickFire TK Keyboard Review @ OCC
Microlab Pro 3 2.0 Soundsystem Review on Technic3D
Leetgion Hellion RTS Laser Gaming Mouse Review
Dell S2740L 27" IPS Monitor Review @ Hardware Canucks
ROCCAT Sense Gaming Mousepad Review @ Hi Tech Legion
Corsair SP2500 2.1 PC Speaker System Review
Editorials
Nero Kwik Overview and Tutorial @ Hi Tech Legion
Humble Bundle and THQ Shake Hands, Many Heads @ Techgage
Electronics
Steam's Big Picture - Gaming goes to the Big Screen TV
Samsung Galaxy Camera EK-GC100 - Impressions after One Day
LG Optimus L5 Smartphone Review
Games
Hitman Absolution PC Review