Xigmatek Gigas Aluminium Case Review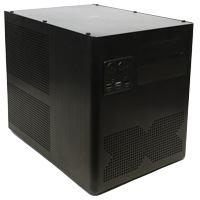 The Xigmatek Gigas PC case does not look like a standard Midi-Tower, but rather like a subwoofer in a high-quality aluminium chassis.
So the enthusiast can decide to use the Xigmatek Gigas case cube made of brushed aluminium as HTPC in the living room or as stylish gaming PC.
Because the case is not only very attractive, but provides also great cooling for high-end PC hardware.
We examined the Xigmatek Gigas enclosure and test the practicality on the following 5 pages.
Additionally, you can win this nice Aluminium case in the Longest Topic battle at our Hardware Forum.
@
ocinside.de
Friday Web Reviews:
HARDWARE
Adaptec by PMC ASR-72405 Enterprise RAID Controller Review
OCZ Vector 256GB SATA III 2.5'' SSD Review @ Madshrimps
ASUS S56C 15.6-inch Ultrabook Review @ Techgage
AZZA Silentium 920B Mid-Tower Chassis Review
Silverstone SUGO SG09 Small Form Factor Chassis Review
Corsair Hydro Series H90 Review @ OCC
DeepCool IceBlade Pro V2.0 Heatsink Review
Silverstone Raven 3 @ LanOC Reviews
Kingston LSI SandForce B02 for Low Power SSD's - Power Consumption Investigation
Patriot Supersonic Magnum 256GB USB 3.0 Flash Drive Review
Apotop DW06 Travel Wi-Fi Router Review
Corsair H90 and H110 CPU Cooler Review @ Hi Tech Legion
SanDisk Ultra Plus 256GB SSD Review @ Hardware Canucks
PC Power & Cooling Silencer MK III 750W @ DreamWare Computers
Thermalright AXP-100 Low-Profile CPU Cooler Review
Corsair H90 and H110 Hydro Liquid CPU Cooler Review @ [H]
Lian Li PC-7HX @ LanOC Reviews
ECBC Poseidon Messenger Bag K7202 Review @ OCC
Zotac ZBOX ID83 Plus Mini PC Review @ Hi Tech Legion
Cooler Master Seidon 240M CPU Cooler Review @ Hardware Canucks
Unigine Oil Rush for Android Review @ Hi Tech Legion
Thermalright Archon SB-E X2 CPU Cooler Review
OCZ Agility 4 256gb @ LanOC Reviews
Phanteks PH-TC12DX CPU Air Cooler Review @ [H]
Accessories
HighPoint RocketRAID 2720GSL & OpenMediaVault
Ineo Alienvibes W401 Speaker Review @ Hi Tech Legion
Razer Ouroboros Gaming Mouse reviewed in Metku.net
Cooler Master CM Storm Ceres-400 Gaming Headset Review @ Neoseeker
Asus ROG Vulcan ANC Pro Gaming Headset Review
Electronics
Motorola DROID RAZR MAXX HD Smartphone @ Benchmark Reviews
Games
Ace Combat: Assault Horizon Review – Too Automated to be Simulated? @ Techgage
Need for Speed Most Wanted PC Review