For the December Monthly Forum Contest we have
ECS
Sponsoring the Contest and we would ask that you take a look at their site to help support the monthly contests. They like the hits and we like the contests.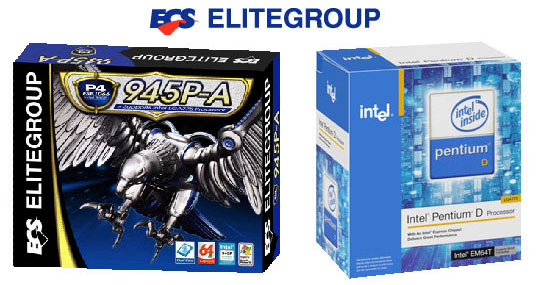 ECS and Legit Reviews is giving away
FOUR
great processor and motherboard combos this month. The winners will get the ECS Elitegroup
945P-A
(
Pricing
) Motherboard that features the Intel 945P and ICH7 chipsets and they will also get a brand new retail boxed Intel Pentium D 830 dual core processors (
Pricing
). Talking about some sweet prizes! Adding up the math this comes out to over $1200 in prizes this month again!
To enter the contest all you have to do is answer the following questions and email your answers along with your forum name, real name, address, email, tel, age, gender to the following email address:
[email protected]
and use the subject line: December Monthly Contest Entry!
It is Legit Reviews policy not to give any of our forum members information away to any company, but to do this contest ECS requested to have the names and e-mails of those who enter. I will only pass along the address of those who win and will delete the rest.
The Contest Questions:
Forum Member Name:
Real Name:
Address:
E-Mail:
Telephone Number:
Age:
Gender:



1. Intel 945 Chipset supports Dual Core. True or False

2. Intel HT technology stands for Hyper Threading. True or False

3. Intel 945 Chipset supports 64-bit. True or False

4. Intel 945 Chipset supports LGA775 processor. True or False

5. Intel 945 Chipset supports only DDR2 memory. True or False

6. How long has ECS being making motherboards?
A. 5 years
B. 10 years
C. 15 years
D. 18 years

7. If you would to recommend ECS motherboard to your friends and family, the recommendation is based on:
A. Compatibility
B. Performance
C. Price
D. Quality

8. Within which period of time are you planning to buy your next motherboard?
A. 1 month
B. 3 months
C. 6 months
D. 12 months

9. How much are you be willing to spend on a motherboard purchase?
A. less than $50
B. $51 - $99
C. $100 - $149
D. $150 +

10. Which of the other brand would you consider in your next motherboard purchase?
A. ASUS
B. DFI
C. Gigabyte
D. MSI
E. Other
The winners of the contest will be named on January 3rd, 2006 (Monday) and the contest is open to all those forum members in North America and South America. Yes, that even includes our crazy Canuk members.