I figured why not start out the year right and give something away to the community! This month is sponsored by
Gigabyte
and we are giving away their
Radeon X1600 XT Video Card
to one lucky active forum member. This PCI Express video card features HDTV, DVI-I, 256MB of GDDR3 memory and best of all Silent Pipe II cooling. While this video card is by no means the fastest thing out there it does represent one of the better choices when it comes to silent cooling for a HTPC. The heat sink on this sucker wraps around both sides of the card and does look really killer.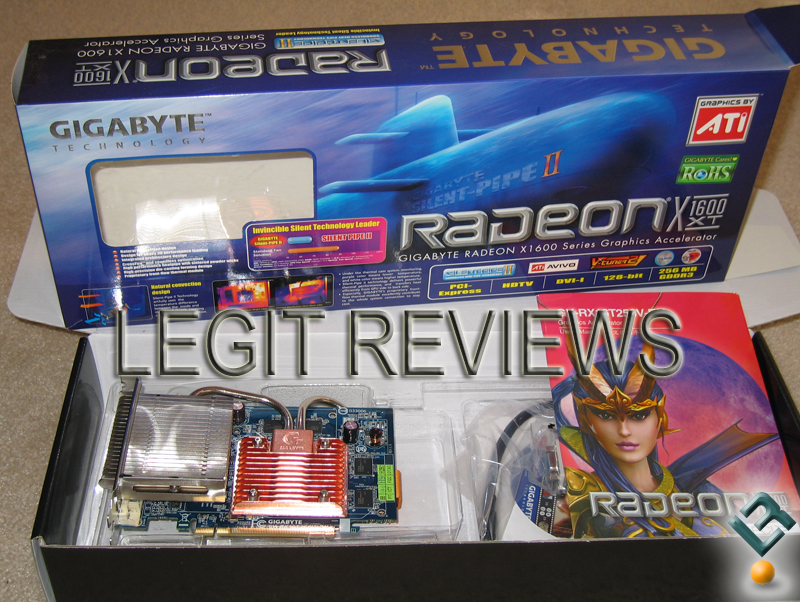 We have a few new rules for this months contest that will help clear things up for those that enter and might win.
RULES:
1) This contest is open to those with a shipping address to the United States only.
2) The winner will be shipped his/her card as soon as possible.
3) The package will be sent USPS with delivery confirmation. If this is not what you prefer the winner reserves the right to provide their own shipping methods and payment such as a Fedex or UPS shipping number.
4) Understand that prizes sent through the mail take time as the USPS can be slow during holidays and the winter seasons due to storms.
5) If the winner is local to St. Louis I ask that a local pickup be arranged.
6) The video card is new, but the box has been opened to take the above picture!
7) The winner must have 30 posts in the month of January 2007
8 ) Reply to this post to enter and it counts as one post!
To enter the contest please contribute 30 posts to the forums this month without spamming anything and be sure to read the rules!
Invite your friends or guild/clan members to join up also! If everyone can agree to the rules and makes 30 posts on the forums this month then please feel free to enter the contest. The winner will be drawn out of a hat at the end of the month and the prize will then be sent out after the full mailing address and phone number of the winner has been received.
Happy New Year and get ready for some great contests in 2007!