I've now been waiting for over 2 months on Dell to ship my 8800GT's and it's given me too much time to think about this crap. I was settled on running the 8800GT's on a 790i board using a Q9450 processor (going on the early reports they would both be available in Jan). Now the 8800GT's I ordered seem like they'll never ship and both Nvidia and Intel have pushed the dates out on the MB and CPU I wanted to buy this month to sometime late Feb or even March (from the info I can find online). I'm getting tired of waiting.
So.... For those of you running 8800GT's in SLI, are you happy with your setup? If you could choose again, would you go with the 2 GTs over a single GTS? There are several deals right now that would match Dell's price of <$209 per GT.......but there are also deals that put the 8800GTS at $265. If I go with the 2 cards, I guess I'll just grab a 780i MB and settle on a E8400 CPU for now. If I go with the 1 card, I guess I'll go with a X48 or X38 (no DDR3 for me) MB (based on recommendations from FZ1 on another board) and the E8400. I don't know a thing about the X48/X38 boards....and I've had my heart set on SLI for a while. I keep hearing it can be a big pain to deal with, turns the computer into a space heater, and sucks power. But......it would definitely make playing Crisis a little more interesting based on these numbers: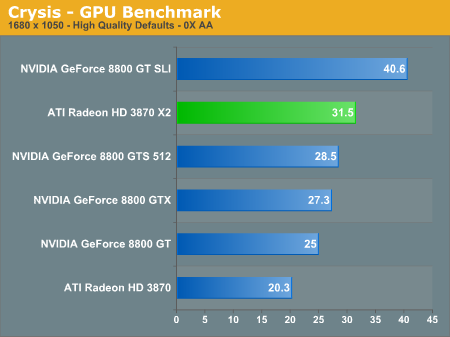 Help me make up my mind...I need all the help I can get at this point. It's been 3 years since I've built my last rig, and all this research has me pulling my hair out.
Damn you Nvidia and Intel......you should have released your products in January like you were supposed to!