I ran across an article earlier that mentioned how the game is taking advantage of the PhysX API. I downloaded the demo and ran the "benchmark" with both my GTX 260 and 9400GT acting as my PhysX accelerator. The theory behind buying the 9400GT was to offload PhysX to a dedicated card and keep my GPU crunching out the video. After running this and a few other demos (Far Cry 2 and The Last Remnant Benchmark) I have to say that I have wasted my money. Granted it wasn't a lot of money but I'd have to say if you are thinking of going this route save your money for something else.
Cryostasis Tech Demo:
http://nzone.download.nvidia.com/nodlm/ ... chDemo.exe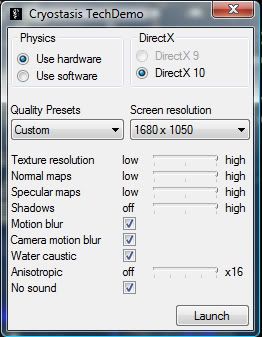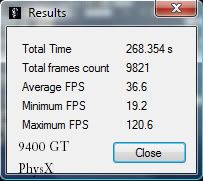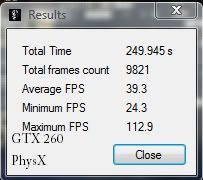 As you can see the 9400GT did offload some of the graphics processing, hence the higher Max FPS, but overall I think I'll take the 9400GT out of the system. It's PureVideo capabilities could be better utilized in another computer.