Best Buy has the 8GB Flip Video MinoHD 3rd Gen 720p Pocket Camcorder for
$43.99 with free shipping
.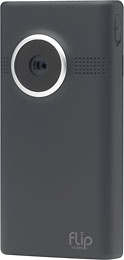 This camcorder features 8GB of memory for storing up to 2 hours of high-definition video. Simply power on and press record to start capturing vibrant footage in seconds.
What's Included

Flip Video MinoHD (3rd Generation) Camcorder
Rechargeable lithium-ion battery
Wrist strap, soft case
Owner's manual

Product Features

From our expanded online assortment; not available in all Best Buy stores
2x digital zoom
Brings you up close to distant objects and scenes.
Record high-quality H.264 videos
In high-definition 720p resolution at 60 fps. Compatible with most video-playing applications, such as Windows Media Player, QuickTime Player and Apple® iTunes.
2" antiglare color LCD screen
With a color viewfinder and touch-sensitive, backlit buttons gives you a clear view of the action you're recording or reviewing. Simple user interface for capturing vibrant high-definition footage in seconds.
Image stabilization technology
Minimizes picture blur caused by camera movement.
Captures still images
With 1280 x 720 resolution.
Stereo audio recording
For rich, detailed sound.
Holds up to 2 hours of high-definition video
On 8GB of built-in memory; no additional memory cards required.
Slim design weighs only 4.2 oz.
For convenient portability in your purse or pocket.
Rechargeable lithium-ion battery
For keeping your camcorder charged and ready for use. Charges via USB connection.
Watch videos instantly on an HDTV
By connecting your camcorder via an HDMI micro cable (not included).
Convenient flip-out USB arm
Plugs directly into your computer to launch the built-in FlipShare software.
Built-in FlipShare software
Lets you organize and edit your videos, capture photos, send video greeting cards and make custom movies. Upload videos directly to Facebook, YouTube and Twitter.
Share videos privately
Using FlipShare's attachment-free e-mail or by creating Flip Channels.