Best Buy has APC 650VA UPS Battery Back-Up System for
$39.99 with free shipping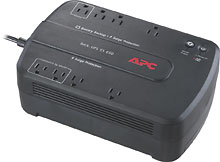 This battery back-up system features 8 surge-protected outlets to protect your computer and peripherals from power surges and spikes. The 340-joule rating absorbs a high quantity of energy for improved performance.
What's Included

APC 650VA Battery Back-Up System
PoweChute Personal Edition software
Owner's manual

Product Features

340-joule rating
Absorbs a high amount of energy to adequately protect your equipment and prolong the life of the unit.
8 surge-protected outlets
Including 4 with battery back-up, protect the equipment in your home or office.
Master outlet
Controls 3 surge outlets and turns off idle peripherals to conserve energy.
Ethernet and telephone surge protection
Guards against power surges traveling on network lines.
Audible alarm
Lets you know the surge protector is no longer protecting your equipment and should be replaced.
USB connectivity
Allows easy management of the back-up system via your computer.
PowerChute Personal Edition software
Automatically shuts down your programs and computer even when you're not at home.
APC $75,000 3-year equipment protection policy.