I started working on testing some DDR2 memory on the
AOpen 1558-JL
notebook that is built on the new Sonoma platform tonight. It is a pretty sweet motherboard with the Intel 915GM chipset and runs with DDR2 memory. I have kits of DDR2 Corsair and Kingston Value memory, so I started benchmarking the memory.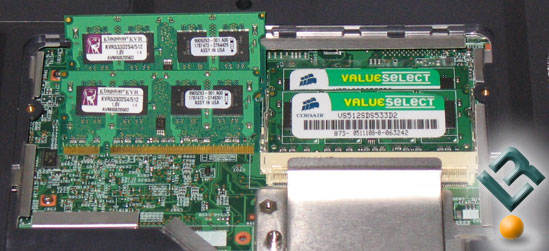 Kingston's ValueRAM made it through Everest, Sandra, SuperPi, and ScienceMark testing with no problems. The Corsair ValueSelect part made it through Everest and during Sandra testing the notebook just shut down. It has never posted again with the Corsair memory installed. I put back in the Kingston ValueRAM and it works fine... Go figure... Never fried notebook memory during benchmarking -- till now that is!

Here are the results from one benchmark before the modules died. The Test system was the AOpen 1558-JL with an Intel Pentium-M 2.0GHz (Dothan) processor, so the memory was running at 400MHz at a 1:1 ratio. Both sets of modules ran 4-3-3 timings.
Everest 2.0 Beta
READ
Corsair: 2308
Kingston: 2451
WRITE
Corsair: 634
Kingston: 653
LATENCY
Corsair: 128.8
Kingston: 123.1
As you can tell the Kingston ValueRAM won ever benchmark when tested at 400MHz DDR2... Guess we will have to wait till Corsair replaces this fried memory till we can see all the scores and I can write a full article. This is one of those "hey we tried, but can't work with broke!" types of things.