There are four programs that come to mind when overclocking your ATI graphics card, two of which are the most prominent: Ati Tray Tools, and Ati Tool. Another is more often referred to when using Nvidia cards: Riva Tuner. The last being built into the Catalyst Control Center: ATI Overdrive.
First is
Ati Tray Tools
First you'll have to install it after downloading it from the above link. Then you'll have to enable the overclocking. Start by Right-Clicking the Ati Tray Tools Icon on the task bar and following the example in the picture.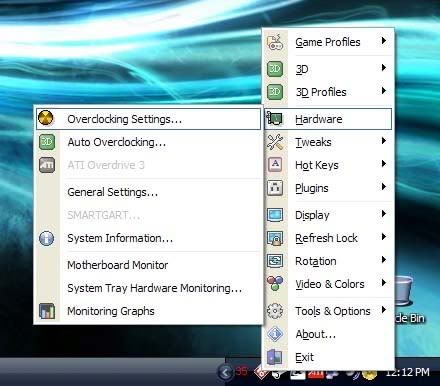 After doing that, you should be at a screen that looks like this.
Make sure to save the current clocks and such as a profile like default or something so you can easily revert to the original settings if you experience problems.
Now you should make sure that the fan stays at 100% at all times at least for testing purposes so you have the maximum amount of cooling possible.
You can play with those settings as you please later but start by setting it manually to 100% and saving that in your overclocking profiles also.
Now before you do any real overclocking you need to have a way to monitor your temperatures at least if you have a card in the x series or later. the 9X00 series didn't have temperature monitors I don't believe. At least not the lower end ones. Ati Tray tools offers two ways to do this. Either with a separate graph, or with system tray monitoring. I think when overclocking the graph is nicer since you can see trends of temperature and see when your card has peaked or not.
Right-Click on the Taskbar Icon and Choose hardware/Monitoring Graphing or System Tray Monitoring.
You'll see i've circled where you can find temperatures in this picture.
You should get these options.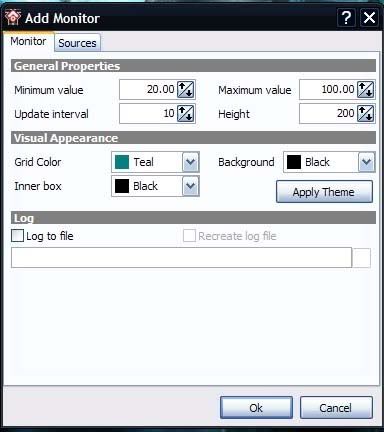 After all of this is set up, It's Time to overclock.
Now you should open the 3D Renderer as it will test your graphics card for stability at the higher clocks.
You can either tell the program to auto overclock the gpu or the memory or both one at a time of course. (if you do this do memory first and make sure it is stable as it is more likely to overclock the poorest of the two.) Or you can do small increments of each one then hit scan for artifacts after applying it and leave it testing until the temps are fine and you aren't experiancing artifacts.
Watch Your Temperatures and Good Luck. You don't want to see anything over 70's in Degree's Celcius Under Full load though most cards can handle Temperatures up to 100 C and still be alright even for day to day use though that is in no way recommended. Also if you have some thermal paste laying around you should put a new layer on your gpu before doing this overclocking as you will get better results with a clean heatsink/fan and new thermal paste as opposed to an old dust covered cooler with an old layer of thermal paste that is dried up.
Second
ATI Tool
This program is very similar to ATI Tray tools, except it is a little bit simpler in the interface and the settings. Sometimes it can be used to tell you the number of pipes and exact versions of cores and available pixel pipes on your card however which can be very helpful for knowing if a mod is possible. The same website you can get it from is a great reference for different mods that can be done to graphics cards.
http://www.techpowerup.com
There is also a great link to a walkthrough on ATI tool a wiki for ati tool from techpowerup
ATI Tool Wiki
Download and install it then open it up. Make sure the default settings are correct and save them before doing any overclocking.
Much of the steps are the same as before. Once again I recommend setting the fan speed to full to find your overclock then if temperatures are good, then you can play with different fan speed configurations.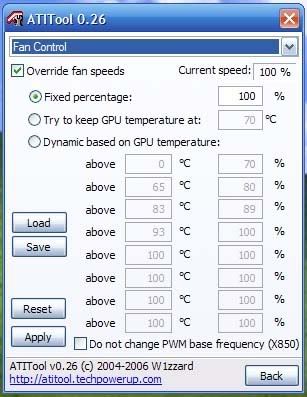 The Temperatures can still be found on the program itself, but also on the taskbar where ati tool defaults the temperature instead of the icon. Also it is listed under the graph, both gpu and ambient temperatures.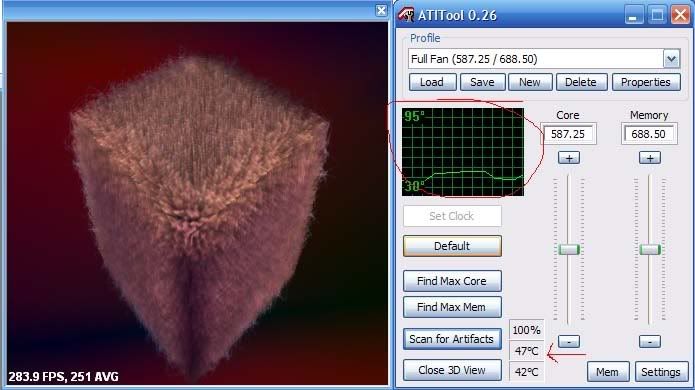 Once you know where all of those things are at, you'll want to start overclocking so open the 3D Renderer. It has options for Auto Finding max core/max memory just like on ati tray tools. If you do have it find max core it should do artifact testing for you.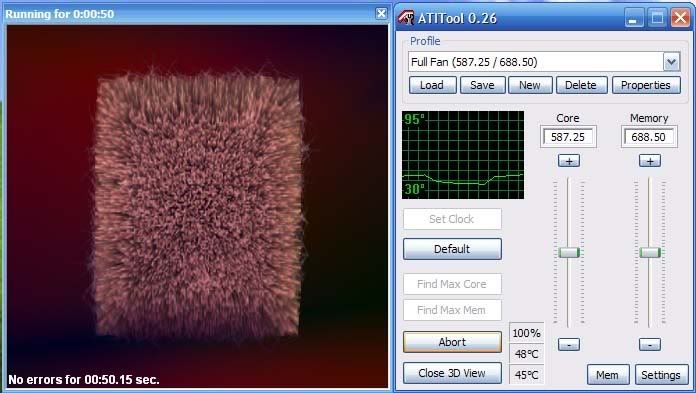 (Above is a picture of Artifact Scanning)
Take it slow and watch the temperatures even if you are letting it auto overclock. Don't be surprised with a blue screen it won't keep it running at that speed on the next start up. Also Its not unlike the catalyst control center to VPU Recover in that case, resetting everything to defaults. Some Games may artifact a lot others will run very very smooth. A good example is Warcraft III I artifact all the time with my overclock and never in any other application or game. That's It for number two.
Third
RivaTuner
ATI R200, RV250, RV280, R300, RV350, R350, RV360, R360, RV370, RV380, R420, RV410, R423, R430, R480, RV515, R520, RV530, RV560, RV570, R580 or R580+ VPU based display adapter are supported by riva tuner. I usually use this on my nvidia cards though I think most of these programs now can be used for both nvidia and ati cards if you read their release notes.
To start with Riva Tuner you have to double-click on the tray icon:

Then You need to select the customize option on the "Target Adapter" I believe if you have onboard video you can choose either or.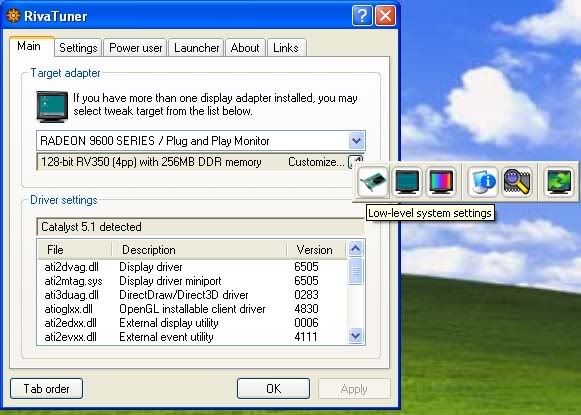 After Choosing The Low Level System Settings, You get to the Overclocking Menu.
The first time you enable low level overclocking, you have to detect stock frequencies or restart your computer either works just as well I usually hit detect now.
Then Change some clock frequencies and Take it slow. When you get it stable, you can save a profile and then tell it to apply it on start up.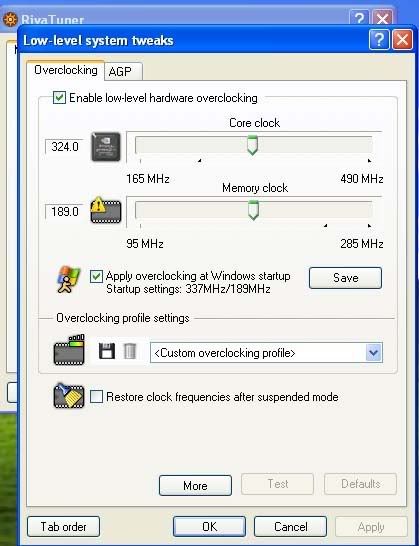 Also there is a monitoring tool for temperatures:
However I couldn't find an artifact scanner so you'll have to use ati tool/tray tools or just benchmark or play games to stress the card and make sure it is stable. I usually use this with nvidia cards, but mostly out of the fact it doesn't have ATI in the name, but The others may honestly work better for Nvidia too.
Fourth
Ati Overdrive
I honestly don't recommend this one, merely because it is so limited. However if you just want a very small boost of core speeds and to know that you won't have problems with temperatures, then go for it. Ati Overdrive doesn't currently support graphics memory overclocking as stated on the faq site. To get to it, you need to open up the catalyst control center in advanced view I believe, but i'm not positive as I only ever open it in advanced view.
Just check the box and I think that's more or less it, it auto overclocks just the core 3D clocks based on the temperature. Also I believe it is within a clock safety range. (Feel Free to correct me hear as I haven't used it, and don't really plan on it.) I know this only works on some graphics cards, usualy the higher ones, I see it on my x800xt, and saw it on a 9600xt, but it seems that hte x1600xt it doesnt' show up on the driver version I have it on. They may have stopped using it on newer versions or just doesn't support it. I'll look around for more info on that in the future.
ATI Overdrive 3 is what the newer cards have it called and it looks more like this.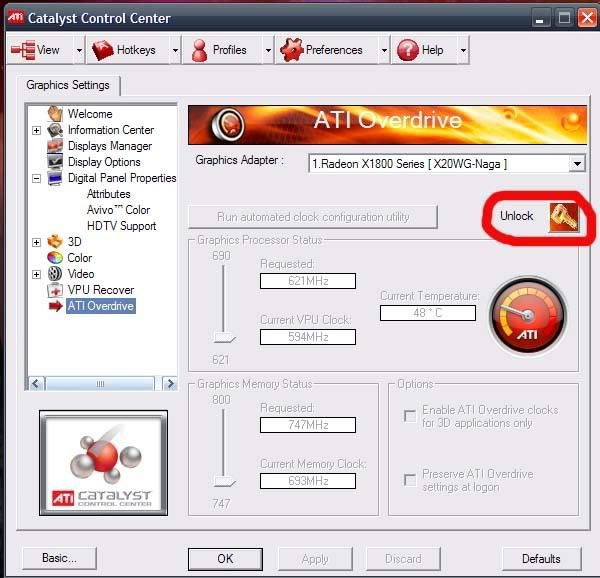 Just click unlock to start using it almost like clicking enable on older cards.
Older cards before the X series Radeons didn't have temperature monitoring chips on them. So you will have a harder time knowing how far you can push them. The 9600 and a few other cards had to have the overclocking lock removed from them so Ati Tool is the best to use for those as in the miscellaneous Options it has a box to click to remove the lock. Now get out there and Overclock, then post your results here and/or on Hwbot.org for legitreviews.