MSI has unveiled a new high-end motherboard for the AM2+ platform. MSI K9A2 Platinum is based on the AMD 790FX chipset and have four physical PCI Express x16 slots. AMD 790FX is the chipset we've previously known as RD790 and it's the flagship of AMD's new 7 series chipsets. It supports the coming AMD Phenom series, including the quad-cores, and has the AutoXpress feature which will accelerate the performance of both K8 and K10 CPUs. MSI K9A2 Platinum sports MSI's monitoring and overclocking technology Dual CoreCell with D.O.T. Express, the OC software Dual CoreCenter, HD 7.1 audio and new Circu(s)-Pipe solution.
MSI emphasizes the support for triple and quad card CrossFire, even though this hasn't been officially announced yet, and together with the quad-core Phenom support. The four PCIe x16 ports can either work as a pair of ports with x16 bandwidth, or as four ports with x8 bandwidth. The board has a 5-phase PWM design, DDR2-1066 support (up to 8 GB), 6 SATAII ports with RAID 0/1/0+1,5, extra SATA hardware RAID with SAS, ten USB 2.0, and two IEEE1394 ports.
I first personally saw this board behind closed doors and it was a Revision 0B board. It was this one right here: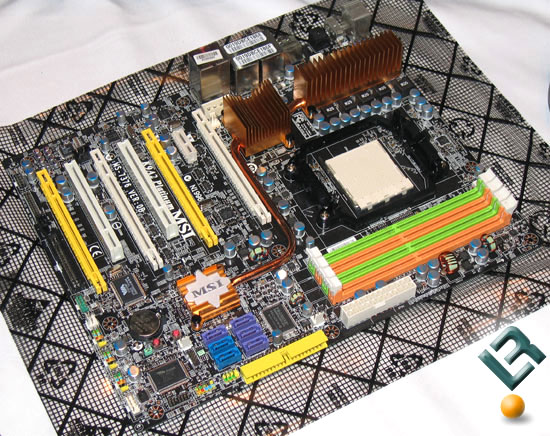 The picture that MSI is sending out to press is this one that features the MSI K9A2 Platinum V1.0 design... It looks a ton better if you ask me.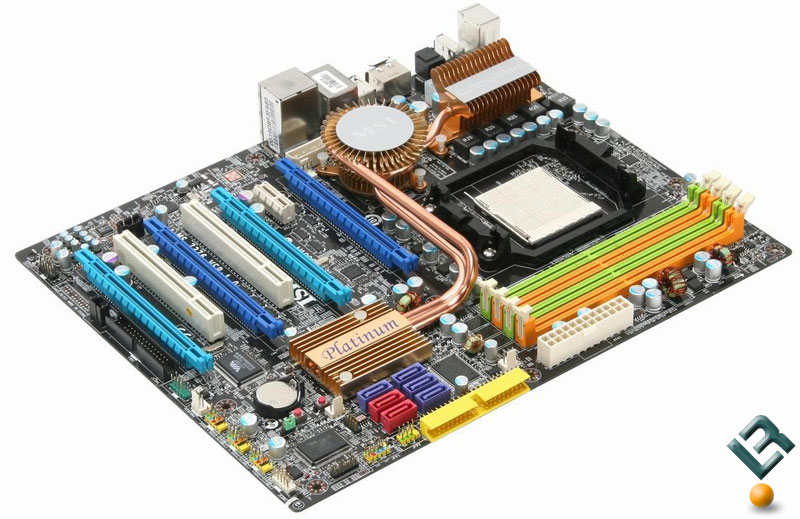 The colors look better, the heat pipes look a ton better and a bit bigger too. Actually there is no doubt about it... both chipsets have much bigger coolers than the original design and they are connected with not just one, but TWO heat pipes. Looks like the cooling had to be increased. Also if you look at the back plate I/O area it looks like just one lan port now.