Well Santa Claus called early for me this year.....(24th)
'Da Board.....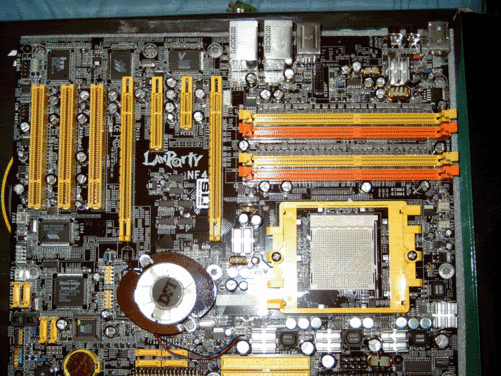 First off I was scepticle about this board....
see here
(thanks Vstrom for the link!)
The board would not boot for me @ first......The only way I could get it to boot was using 1 stick of ram in the furthest orange slot from the cpu....
I later discovered that the bios has a few "quirks" which should be fixed....
First off....The default Bios sets "Dram Responce Time" to Fastest!
I couldn't boot my "old" board using that setting (ever) (old board = SLI-DR)
The bios also sets the "Trc" memory timing to 7
This is the lowest timming you can set and only BH5 ram can run this normally.....(Trc is the second last timming from the bottom, that you see in CPUZ)
The Bios also sets your rams default voltage to 2.6v (I suspect this is why I could not boot 2 sticks.....my ram needs 2.7v min to do 2-2-2-5-7)
Straight away I could not boot into my "old" settings.....after 2hrs of resetting the CMOS and looking @ memtest I finally gave up (about 4am this morning)
I now have my old settings...with "Dram Responce Time" set to "Fastest"

The "old" SLI-DR board and this OCZ gold Ram would not do 1:1 @ 237MHz.....Some days it was stable...most days, it failed ~2hrs of memtest #5
The new Challenge for me is now to try get 237MHz with 1.5-2-2-5 timings @ 1:1........
The Chipset placement is sweet BTW.....I will be able to watercool the chipset next month ;)
Most Bios options are the same, except for the obvious...I can now select upto 4v memory and SLI without jumppers.....
There are also ALOT more "Dram Data Strenghts" and "Dram Drive Strenght" settings.....From what I have read...I'm gonna need to use them when trying for max mem OC....
The board also runs ALOT cooler, with the "old" board ALL of the heatsinks on the board got hot....on this board they are only warm

I'll post some benchies....not sure If I will get a chance today...
I'll leave you with a Pic of 'Da Board in action (pic taken @5am Christmas morning)
Happy Christmas Everyone.......