The website tweakers had some images posted up of the upcoming MSI K9N Platinum (Socket M2/AM2) motherboard that I thought you all would like to take a look at. These are rumored to be real pictures and they are the first board company to have leaked images up.
The MSI K9N Platinum Motherboard: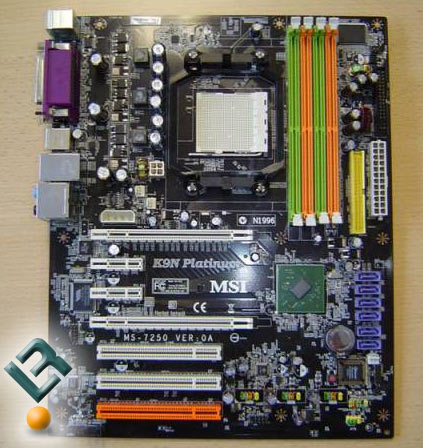 The MSI K9N Platinum Motherboard Chipset Shot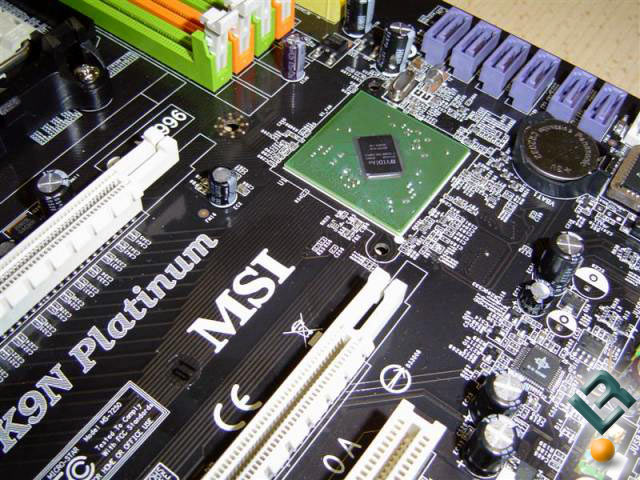 The chipset is huge compared to the one used on the upcoming ATI RD580 boards, but looks like a normal board minus the 940-pin CPU socket called Socket AM2.
The Inq. had this to say aboout the board:
The "nForce5" chipset in question is known under a name "MCP55", and its more or less the same nForce4 SLI chipset we know today, only featuring new enhancements in various sectors: it supports 20 PCIe lanes (so the two x16 slots you're seeing on a picture are electrically x16. Data throughput wise - x8), six SATA-II devices and one PATA interface, a single Gigabit Ethernet (nV GbE) and most importantly - eight-channel RealTek ALC882D High-Definition Audio chip.