Running 12GB of DDR3 Triple Channel Memory on Intel Core i7 Platforms
Enthusiasts have been talking about running 12GB of memory on an Intel Core i7 platform since the day the platform came out. With many enthusiasts getting into photo editing using CS4 other memory intensive applications we take a look at running 12GB of system memory. Read on to see how tight we can get the timings and how far they can be overclocked.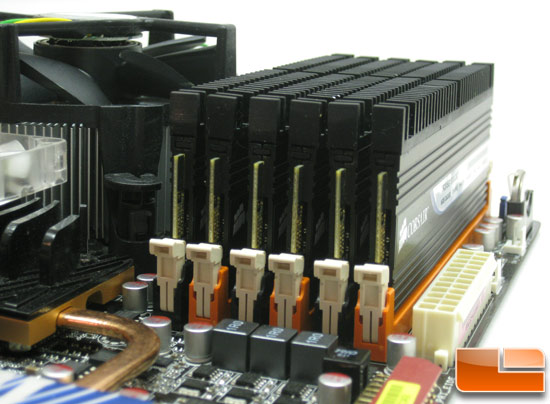 Armed with two Corsair DOMINATOR 6GB 1866MHz CL9 memory kits with the AIRFLOW fan I set out to see how easy it would be to run 12GB of memory on an Intel Core i7 desktop system. These TR3X6G1866C9DF memory kits retail for $449 each and are fastest Core i7 triple channel memory kit that Corsair has to offer. Since these kits go through the tightest screening and binning at Corsair I figured that a pair of these kits should provide not only the best chance at getting 12GB of memory running, but also the best performance should overclocking be in order.
Article Title: Running 12GB of DDR3 Triple Channel Memory on Intel Core i7 Platforms
Article URL: http://legitreviews.com/article/879/1/
DIGG IT: http://digg.com/pc_games/Running_12GB_o ... el_Core_i7