AMD Phenom II X3 720 and Phenom II X4 810 Processors
AMD is announcing five new Socket AM3 processors that many enthusiasts have been waiting many months to launch. These processors are based off the same 45nm 'Deneb' core that the previous Phenom II processors use, but with a few tweaks and a new memory controller. This new memory controller allows the processor to run both DDR2 and DDR3 memory kits, which is good news for AMD as up to a 5% performance boost can be seen when running DDR3 memory on Phenom II processors.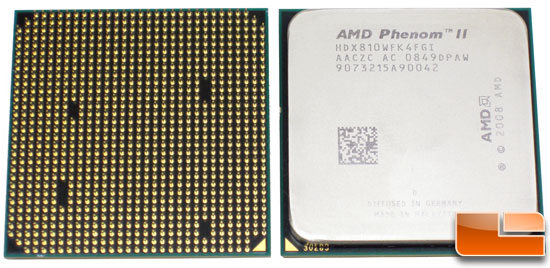 One thing about the launch of the AMD Socket AM3 processors that seemed a bit strange was the lack of a flagship part. It is a shock that AMD didn't pull out an AMD Phenom II X4 Black Edition running 3.4GHz or something like that as they have touted how well the new Phenom II cores scale when overclocked. Since Intel has the performance front won with the Core i7 Series why not launch something on the top to make the battle a little more interesting? Our guess is that AMD wants to hit the mainstream market with parts that people can afford. It might not sound like good news to enthusiasts, but the mainstream market is where the vast majority of the chips sell. In this economy you have to keep the parts moving and that looks like what AMD is doing with the launch of these five new processors.

Article Title: AMD Phenom II X3 720 BE and Phenom II X4 810 Processors
Article URL: http://legitreviews.com/article/898/1/