Sanus Low Profile ELM203 Surge Protector Review
The Sanus ELM203 Low-Profile Surge Protector is an inexpensive way to incorporate surge protection behind any any wall-mounted HDTV or a piece of AV furniture. The ELM203 offers 2,100-Joule protection and EMI/RFI noise filtration at a product depth of just 1.37 inches.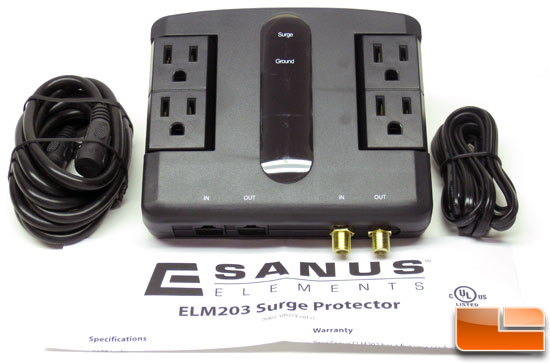 The Sanus Elements ELM203 Surge Protector comes with a pretty impressive bundle for being priced at just $18.95 plus shipping. Included with the ELM203 is a 6' phone cord, 6' coax cable, and the instruction manual. The instruction manual goes over the basics and also covers the five year warranty. Not a bad deal deal considering you can fork over $55 plus shipping for the Panamax MIW-SURGE In-Wall surge protection system that protects just a single device. The ELM203 Surge Protector is clearly priced right and in this economy, pricing is everything.
Article Title: Sanus Low Profile ELM203 Surge Protector Review
Article URL: http://legitreviews.com/article/996/1/
Pricing At Time of Print: $18.58 plus shipping