Unigine 'Heaven' - The First DirectX 11 Benchmark
Last week on October 22, Unigine Corp. announced the release of the World's first true DirectX 11 benchmark "Heaven" that is based on its proprietary Unigine engine. This is fairly big news as we can finally get to see how DirectX 11 will look and run on the latest DirectX 11 graphics cards from AMD. Read on to see how the Radeon HD 5870, 5850, 5770 and 5750 do on this tough DX11 benchmark!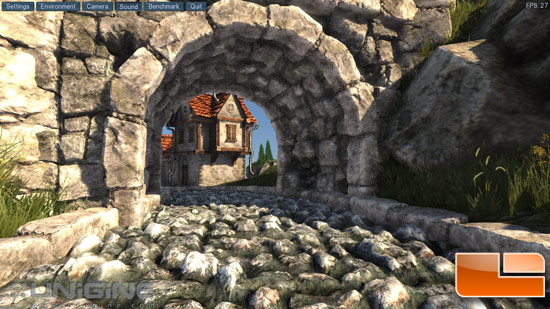 The Unigine 'Heaven' DirectX 11 benchmark looks really impressive, so before we go straight to the benchmark numbers we wanted to show you some screen shots that we took from the benchmarThe scene above is rendered in DirectX 9 and you can see how the roof and stone work in the building corners is relatively flat. This scene reminds me a little bit of the cs_italy map from counter-strike, which is sad considering that map was released over seven years ago. With DirectX 11 enabled the same scene comes to life thanks partly to Tessellation, which is one of the more important DirectX 11 features. Without Tessellation there is no displacement so things are flatter in DirectX 9 or with Tessellation turned off.
Article Title: Unigine 'Heaven' - The First DirectX 11 Benchmark
Article URL: http://www.legitreviews.com/article/1117/1/