G.Skill ECO 4GB DDR3 1600MHz CL7 Low Voltage Memory Kit Review
G.Skill sets a new standard for DDR3 energy efficiency with their DDR3 ECO Series. This DDR3-1600C7 kit runs on a meager 1.35vdimm while offering performance and price similar to its competition. Check out how this low voltage kit stacks up and if low voltage memory is helpful in lowering power consumption.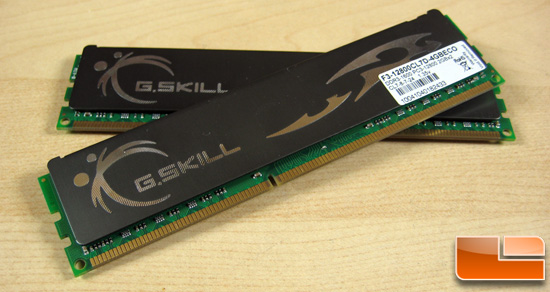 G.Skill's ECO series is quite the kit when you consider what it is able to accomplish with what it is given. DDR3-1600 with only 1.35vdimm may become commonplace in the future but for now it is a nice surprise. Our testing showed that using this memory kit reduced power usage at the wall when compared to other kits that use the standard 1.65vdimm setting. Priced at $124.99 plus $2.99 for shipping, the G.Skill ECO DDR-1600 2x2GB are priced $15 above the lowest priced 4GB DDR3 1600MHz dual-channel memory kit, but it is priced among the majority of other DDR3-1600 C7 kits.
Article Title: G.Skill ECO 4GB DDR3 1600MHz CL7 Low Voltage Memory Kit Review
Article URL: http://www.legitreviews.com/article/1283/1/
Pricing At Time of Print: $124.99 plus $2.99 for shipping