CCleaner v4.00.4064 (26 Mar 2013)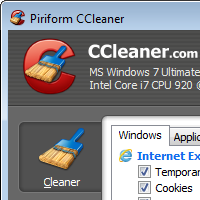 Changelog:
- New improved graphics and icon.
- Improved internal architecture for better performance.
- New Duplicate File Finder tool.
- New System and Browser Monitoring (Pro Version).
- Optimized and improved Registry Cleaning.
- Added cleaning for Avast Antivirus 8, Adobe Photoshop CS6, Samsung Kies and Real Player 16.
- Improved Drive Wiper performance.
- Optimized Startup item detection algorithm.
- Optimized 64-bit builds on Windows 7 and 8.
- Many performance improvements and bug fixes.
Download:
http://www.piriform.com/ccleaner/builds
If you want more options to clean other software I recommend you download and install the latest winapp2.ini file. Open the link, save the page as All Files and name it winapp2.ini. Copy/Cut and paste the file into the directory with ccleaner.exe and/or ccleaner64.exe.
http://winapp2.com/Winapp2.ini