I would like to share a build I am planning to get very soon
and you might wanna make it as a reference on your
upcoming purchase. Got these prices from newegg so
if you'll ask how much it would be on your country,
it would costs somewhere near these prices.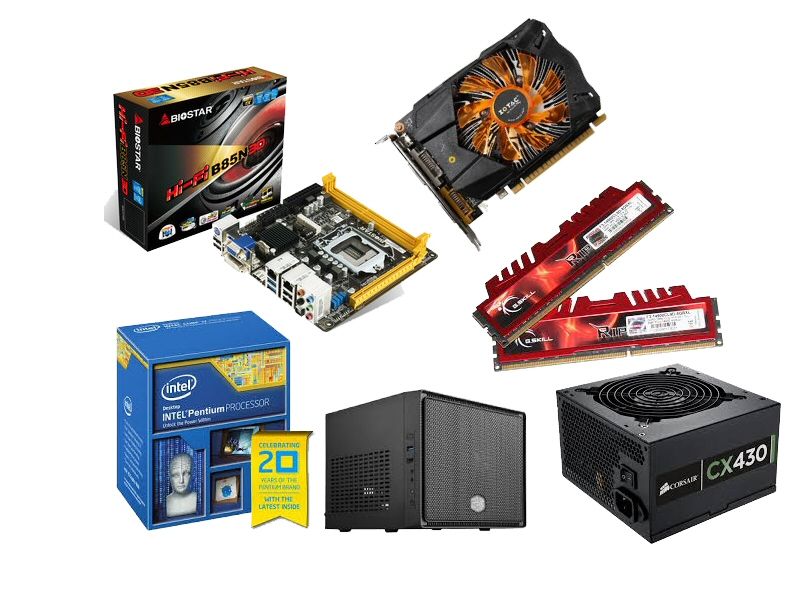 Cooler Master Elite 110 = $39
* One of the most cheapest ITX casing out there. Unlike Lian-Li's
and Silverstone's, you could fit a standard sized PSU in it.
Corsair CX 430 430W = $39
*430w of power is more than enough for this entire build
Biostar Hi-Fi B85N 3D = $69
*Cheap and has mosy of the features those famous brands currently has.
For this small platform, it has a good built-in audio.
Intel Pentium G3258 3.2 Ghz LGA 1150 = $69
*At $70 you get a special edition CPU from Intel. An unlocked
CPU that overclocks well with the Biostar Hi-Fi B85N 3D.
G.Skill Ripjaws X 4GB X 2 DDR3 1600mhz = $79
*G.sKill sports a cheap and a kickass design on their
rams. 8Gb with a 1600mhz speed is good enough to play current released games.
Zotac GTX 750Ti 1GB 128-Bit GDDR5 = $139
*Sports the new Maxwell architecture. A card so powerful to handle
games like Battlefield 4, Titanfall, COD Ghosts etc. that peaks at
insanely low 75 watts.
Western Digital WD Blue 1TB SATA = $59
1Tb is I think a pretty good enough capacity for this build.
Total = $493
(monitor excluded)
A budget gaming PC that can handle latest games @ full HD.
It has a small foot print that you could put it almost anywhere
on your table.