Are you sitting down? AOpen is coming out with the board in the upcoming
weeks
and has the most powerful Pentium M platform I have seen to date. The AOpen i915GMm-HFS features the Intel 915GM chipset with support for single channel DDR333 and dual channnel DDR2-533 memory. It also features PCI-Express x16 & x1 plus two regular PCI slots for expansion. From Azalia audio to Intel Xtreme Graphics back to SATA2 controllers this board has a ton of features. Let's take a look at the board.
The First Pentium M "Alviso" Micro ATX board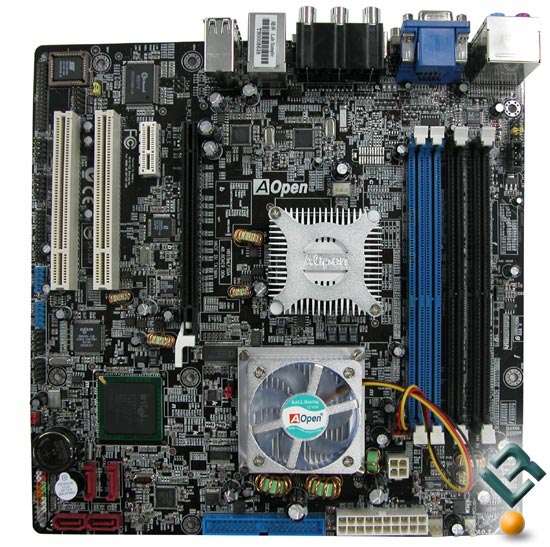 The Impressive IO Shield

The only thing lacking on the back side of the board is legacy support! I'm sure the DVI, VGA, RGB, and other ports make up for that though!
This board is one of the first to fully support HDTV and makes it one of the few micro-ATX boards consumers should be wanting now. The AOpen i915GMm-HFS comes with many ways to hook up your PC to a HDTV or STV device. To fulfill this strict requirement AOpen provides the option of YPbPr connector, Svideo connector and D4 (Japan use only) connectors to attain the highest image quality on 1080i, 720p resolution making HD a reality win built in graphics!
Features:
Supports 533MHz FSB Intel Pentium M Socket 479 CPU
Support HDTV/TV
Supports DVI Output
Supports S-Video
Dual Gigabit LAN on-board
Supports DDR333 or DDR2 533
7.1 Channel
Supports PCI Express x16 Graphics
Dual Channel Memory Mode ( DDRII 533 only )
Serial ATA II on-board
Serial ATA on-board
IEEE 1394 on-board
Supports RAID function
Supports USB 2.0 Technology
Specifications:
- Intel Pentium M CPU (Dothan / Banias)
- Socket 479
- Intel 915GM
- Intel ICH6-M
- Clockgen by Realtek
- Super I/O by Winbond
- audio by Azalia Codec on-Board embedded S/PDIF (ALC880)
- LAN by Dual Marvell Gigabit PCI Express LAN Chip
- Memory Dual Channel DDR2-533 or single Chanle DDR1-333