CCleaner v3.26.1888 (12-21-2012)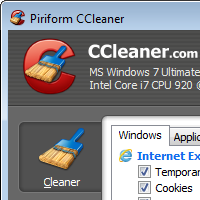 Changelog:
- Improved Firefox add-on management.
- Improved Google Chrome extension management.
- Optimized directory analysis algorithm.
- Added cleaning for Office 2013.
- Added cleaning for Adobe Reader 11.0.
- Fixed minor issue with Windows 8 installer.
- Updated unicode translations.
- Minor GUI improvements.
- Minor tweaks and bug fixes.
Download:
http://www.piriform.com/ccleaner/builds
If you want more options to clean other software I recommend you download and install the latest winapp2.ini file. Open the link, save the page as All Files and name it winapp2.ini. Copy/Cut and paste the file into the directory with ccleaner.exe and/or ccleaner64.exe.
http://winapp2.com/Winapp2.ini